It's that time of the week again. Time for our second installment of Ask Mandy. This week we are looking to answer a question from:
kimmykwhit!  I have several vintage suitcases and one in particular that's about 4ft long & a foot high. Besides stacking them or using as tables, what else can I do with them?
I have to agree with Kimmy that there are tons of fun things you can do with stacking them, and using them as tables. And you will see a few of those below. But I also managed to gather a few more fun ideas.
This would be a fun way to add some vintage flair to your bathroom. Using a smaller suitcase to create a wall mounted medicine cabinet.
1.Medicine Cabinet
Now this I saw online and just thought it was too cute to not include. A fun vintage version of a picnic basket.
2. Picnic Basket
As mentioned in the question there are always lots of options for stacking and making tables. Here is one of those many examples. A nice night stand or side table works so well. I also like the idea of placing a cute tray vintage or not on top, to create a really good flat surface.
3. Night Stand/Side Table
Of course the first thing I thought of when you mentioned the 4foot long suitcase you had was a coffee table. It just seems like the perfect size, plus it doubles with some great hidden storage for board games or blankets. Here are two versions. The first one the cleverly added small legs to give the table the height they wanted.
4. Coffee Table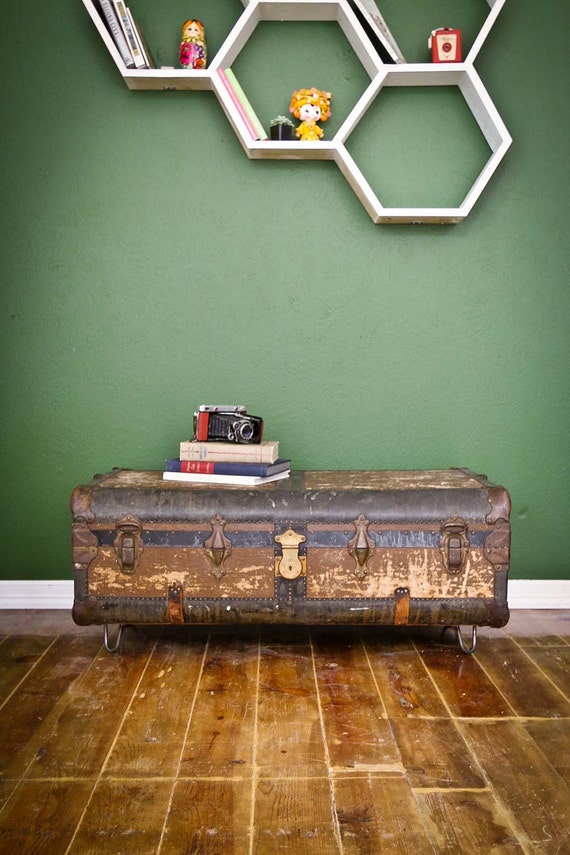 And the second they just used it as is.  I also think it would be cute to add small legs and place it at the end of your bed. Giving the same feel as a bench or trunk.
And finally this fun DIY table. I just thought it was so lovely.  And depending on the size of your suitcase you could make a good sized table, or even desk really. I think this could look perfect as an entryway piece, with a mirror above it, coats hanging next to it.
5. Entry Table
Hopefully that gives you some new inspiration and ideas of what you can do with your suitcases.
Mandy
Sign-up for the latest market updates, ticket information and more!